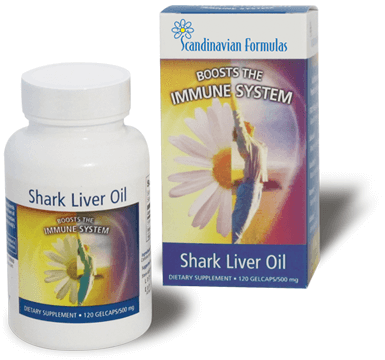 Shark Liver Oil – 500 mg.
The Power of Alkylglycerols
It is recorded that Shark Liver Oil has been used for centuries in Scandinavian countries, to help the immune system.
For the last 40 years, researchers have discovered and studied a group of immuno-chemicals in shark liver oil known as "alkylglycerols" that are found in significant amounts in human breast milk, and in the liver, spleen and bone marrow, all of which are blood-forming organs. The highest concentration of alkylglycerols has been found in the liver of deep-water sharks, which is a reliable source for the natural supplement industry.
Alkylglycerol, or AKG for short are a fatty substance belonging to a class of fats called ether lipids, or ether-linked glycerols.
Our shark liver oil is processed from the livers of sharks found in the deep waters off the coast of Norway and the northern Atlantic Ocean. The shark liver accounts for up to one-third of the shark's size and weight, and can yield up to 100 gallons of oil, containing a minimum of 20% Alkylglycerols within the oil. Contaminants, pesticides, heavy metals have been removed as well as unwanted fatty substances such as cholesterol, EPA/DHA and excessive amounts of Vitamin A & D and squalene. Each 500 mg gelcap is purified and standardized to provide 100 mg of alkylglycerols.
"A trusted product, worldwide"
Supplement Facts
Serving Size:  1 Gelcap
Servings Per Container:  120
Amount Per Serving
% Daily Value
Shark Liver Oil, refined
500 mg
*
*Daily value (DV) not yet established.
Other Ingredients:  Gelatin, Glycerin
Contains no artificial flavors, colors or chemical preservatives.
Bottles of 120 gelcaps.
Disclaimer: The information presented here is intended for educational purposes for consumers, health professionals and practitioners, and it is obtained from published research. It is not intended to be prescriptive or to replace the care of a licensed health
professional in the diagnosis and treatment of illness.