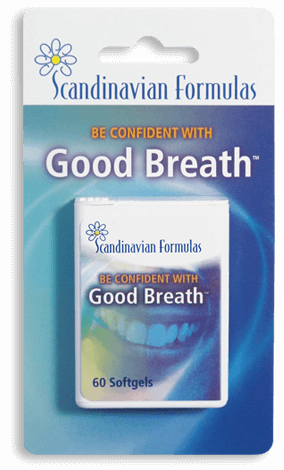 Good Breath™
"Works from the inside out."
By simply swallowing 2 or 3 capsules, Good Breath starts to work immediately on coffee, cigarette smoke or morning breath. Good Breath ensures close encounters of the best kind with fresh long-lasting breath whether you eat garlic, onions or spicy foods.
Good breath goes directly to the source of these odors – the digestive system itself!
Finally, no more embarrassing moments when your date or mate avoids close contact with you after eating garlic or other offensive foods. Regular breath mints can only treat the surface of "yucky" breath odors and not their source.
Good Breath contains no sugar, starch, artificial flavors, preservatives, dairy, corn and is sodium and yeast free.
In addition to Good Breath, it is also very important to have daily oral hygiene along with yearly dental visits.
Convenient Flip-Top Container of 60 softgels.
Supplement Facts
Serving Size:  3 Softgels
Servings Per Container:  20
Amount Per Serving
% Daily Value
Parsley Seed Oil (Petroselinum crispum)
(from 0.2 mg of a 500:1 concentrate)
(equivalent to 100 mg Fresh Parsley Seeds)
100 mg
*
Sunflower Seed Oil (Helianthus annuus)
119.8 mg
*
*Daily value (DV) not yet established.
Other Ingredients:  Gelatin, Glycerin, and Water
Disclaimer: The information presented here is intended for educational purposes for consumers, health professionals and practitioners, and it is obtained from published research. It is not intended to be prescriptive or to replace the care of a licensed health professional in the diagnosis and treatment of illness.