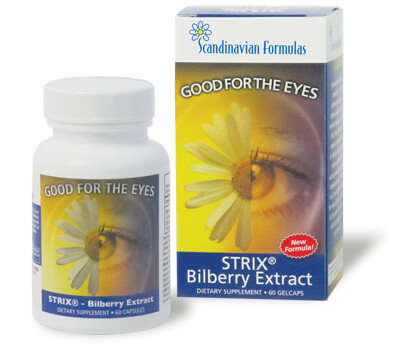 STRIX® Bilberry Extract
Improve night vision and overall eye health
with these easy to swallow Bilberry tablets.
"I can see clearly now the rain is gone!" A popular song reminds us
of one of Bilberry's greatest attributes – helping us to see clearly!
Can you think of a better gift than clear sight? Don't invite eye
fatigue into your life.
Scandinavian Formulas' STRIX® Bilberry Extract contains Bilberry Extract obtained exclusively from Vaccinium Myrtillus L., specifically from the skin and pulp of the berry.
Bilberry has been widely known to herbalists since the 16th century. This close relative of blueberries contains over 15 different naturally-occuring anthocyanosides (flavonoids) that contain beneficial antioxidant properties.
"Life is Good – See it Clearly"
Bottles of 60 Softgel Capsules
Supplement Facts
Serving Size:  1 Softgel Capsule
Amount Per Serving
% Daily Value
Bilberry (Vaccinium myrtillus ( fruit)) - 1000mg (1g)
(from 250mg of a 4:1 extract)* Daily Value not established
*
Other Ingredients: Gelatin, Glycerin, Purified Water, Yellow Beeswax, Caramel Liquid, Sunflower Seed Oil, Sunflower Lecithin.
Intake: For adults, take one (1) softgel capsule once or twice daily, preferably with meals.
Warning: If you are pregnant, nursing or taking any medications, consult your doctor before use. Discontinue use and consult your doctor if any adverse reactions occur.
Keep out of reach of children. Store in a cool, dry place.
Disclaimer: The information presented here is intended for educational purposes for
consumers, health professionals and practitioners, and it is obtained from published
research. It is not intended to be prescriptive or to replace the care of a licensed health
professional in the diagnosis and treatment of illness.